Well I said I'd like to share my completed projects. I think I might have to categorise them (for those on the spelling mistake hunt due to my original blog post, I'm Australian and spell categorise with an S where the yanks would've put a z ....but I'm glad you're on the ball *wink*)
So first things first, I'm a Singer Sewer. My sewing experience comes from a misguided high school timetable in which my class got sewing for two years in a row and never got food technology or home economics (so if my cooking sucks, that's my excuse! But I try. I'm sure I'll get to posting recipes on here one day). I didn't much sew again until my family put in to buy me my sewing machine for my 25th birthday present 5 years ago. I jammed it a few times and got scared and stashed it away (bet you can relate?)
Then divine inspiration, or whatever you want to call it, called me to quilt something. Christmas time in 2009 I got my sewing machine out, spent hours on you tube, and borrowed a hundred year old* ruler and mat from my husband's Nan (*Ok not a hundred years but well worn). And never looked back.
Here are my quilts in order of when they were made:
First ever quilt. For my bridesmaid's first son.
I gathered some of the blocks in the quilt instructions for "Patterson's curse" by Carolyn Davis in AUSTRALIAN QUILTERS COMPANION # 33 and made it up from there. Ran out of fabric a few times because I had no idea how to do patchwork, but it turned out awesome huh? I cross stitched the alphabet and a corresponding picture (IE S Snail Z Zebra etc) and "my Mummy is Danielle" and "my Daddy is Brett"
This was the next quilt, for my cousins-in-law. Natalie and Dylan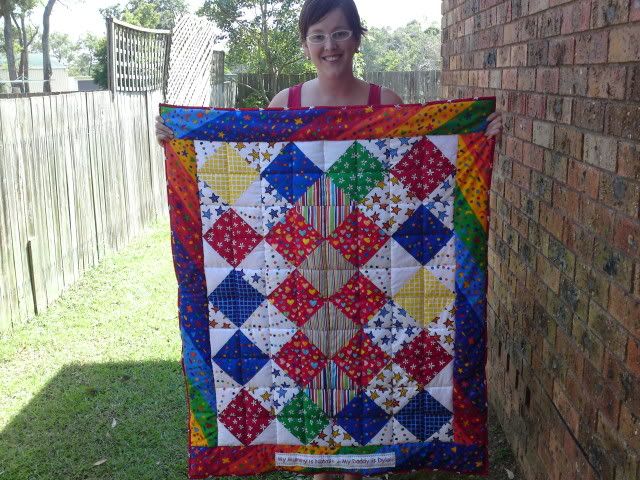 At the bottom there is backstitching that says "My Mummy is Natalie" and "My Daddy is Dylan" in variegated thread.
Once again, quilted at home with red thread (I simply love red). The fabric is mostly from the Newcastle Quilt Show in March 2010, and some if from the Maisy Mouse fabric range.
I was in love with half square triangles and didn't run out of fabric this time.
My version of Monica Poole's quilt named "Fancy free".
I added the "trams" of this quilt-as-you-go quilt to the back because I just thought the front would look better that way (and I still do).
The back:
This was my first quilt for myself. And I made some pillowcases to match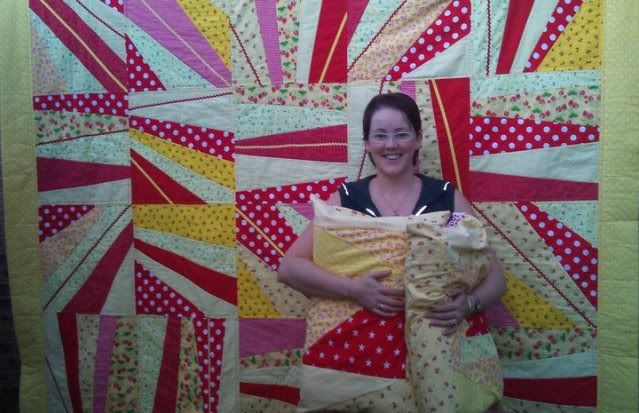 Another baby quilt. Finished June 2010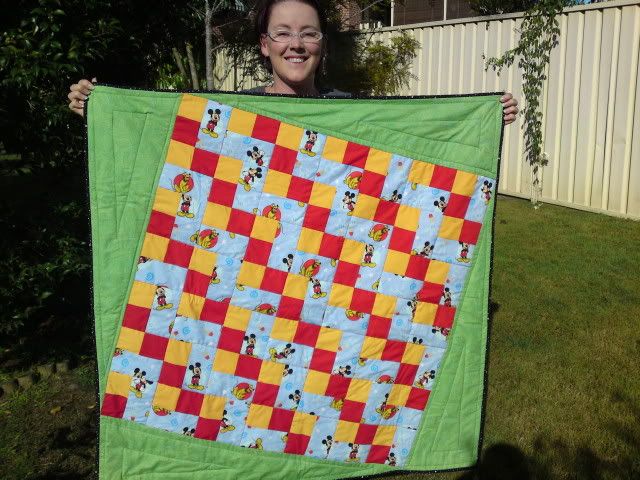 This is for a friend who didn't know the sex of their baby yet. I made the design up by myself and sorted the mickey fabrics so that Mickey is facing up for the most part.
It's looking a little boyish but turns out it was a boy anyway!
I learnt how to do the twisted border by borrowing a book from the library.
Here is one I made for myself, for about the house. I just love these fabrics & decided to keep it simple. Seeing as it turned out very out of shape, I decided instead of quilt "in the ditch" like I normally do, I would sew on buttons to secure the layers. There are about 4 buttons on there, maybe I'll get around to sewing some more on one day.
And a quilt for my first baby. You can kinda see my belly in this one hee hee. I was massive.
Wishes n dreams fabric collection by Melissa Saylor for Wilmington Prints. I bought this fabric before the baby was even conceived I just loved it so much!
I made a rocking chair top cover to go with it
Prairie points are fun. I try to learn something new with every new quilt.
And the most recent completed one is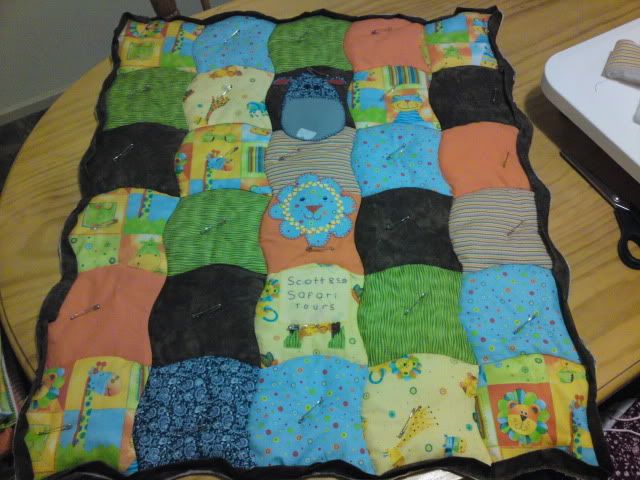 Using twisted squares ruler from
Aussie Patches
The sign down the bottom says "Scott & Co Safari Tours" because the baby's last name is Scott. I love ricrac and made up the lion (in the middle) by myself. So cute! Made the hippo shape loosely based on the hippo images on the fabric collection.
So what's next? A quilt specifically for my little Mister with his name on it. It's castles and crowns. So far it looks like this.....
The top part will be a castle, and his name is Lars.
Until next time, thanks for stopping by. Please comment, I would love to hear about you! (To comment, click where it says "0 Comments" below, and a field shows up where you type your comment in.)