I wanted more breastfeeding clothes because any breastfeeding Mum knows you quickly get sick of the minimal stuff on offer, unless you have a money tree and can simply buy a whole wardrobe of $70 tops ...which I don't.
When I went to buy the clips, I thought I'd find them 'at every corner' online but could only find them for sale from ONE single site, in Canada with AU$20+ postage! (Let me know if you hear of anywhere else that sells them and I just had a bad-search-day!!) So I bought a whole bunch of them, making the postage worth it, and thinking to myself "These 'ill sell like hotcakes!". Sadly, I seem to be the only person outside Canada interested in them? Nevermind, when I get time to make 24 more tops, I'll have all the clips I need haha.
So part of my plight to get breastfeeding Mums into something other than singlets, I want to share the How-To of making a $5 top into your very own $70 top ...kind of :-)
Start here
---
So I bought this top on the Supre clearance rack for $5 (I know, sweeeet!)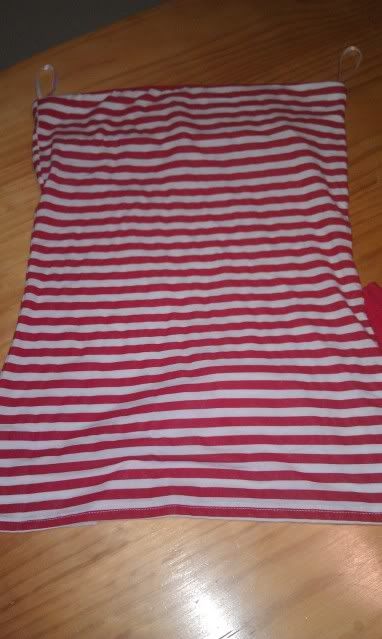 You kind of need to have the inbuilt/shelf bra part in your top. Unless you don't mind going bra-less, or wearing your maternity bra with your new top.
However, I tried this a few months ago, and I was clipping the bra to the shirt and getting all confused, so now I avoid it, personally.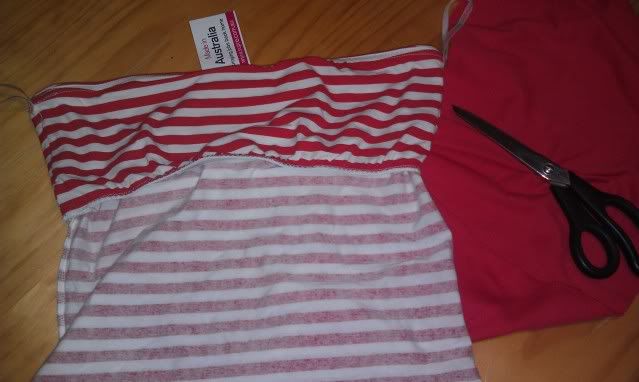 You'll need some knit fabric for the inserts (so your top holds together when you're feeding) and whatever you're going to use for straps if your top is strapless. I only needed about 10cm of the red knit fabric for the inserts.
Make sure you have the stretch going left to right as you would for normal clothing, otherwise your top will droop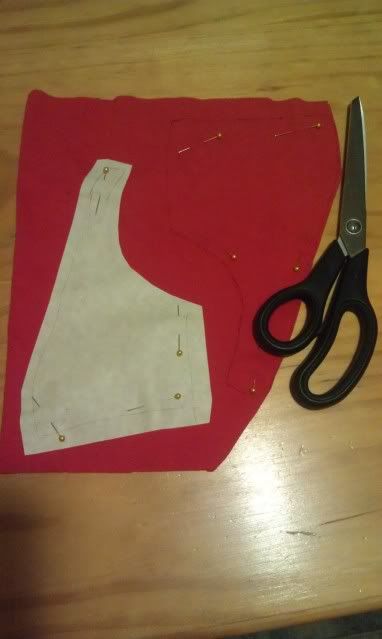 Cut out a piece roughly this shape to go under your armpit and at the side of your breast. Mine was two fabrics thick.

I traced this shape from an existing feeding top.
You can't go wrong if it's "too skinny", but there is such thing as "Too wide". Too wide means it may be difficult for your baby to access your nipple, and it's also not a good idea to have anything blocking your milk ducts too much.

If this becomes too confusing, you can do a simple strap instead of a nice shape, and the strap doesn't get sewn into the under arm seam at all.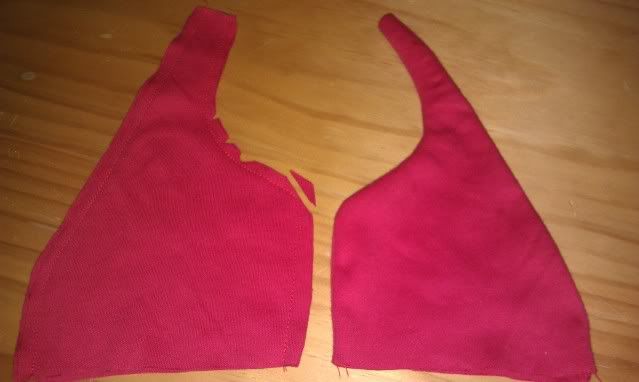 I sewed together, clipped the corners and turned out. If you use just one layer it simply wouldn't be as cushy - it's up to you.
Sew the inserts to the under-bust part of your top, and the side seam.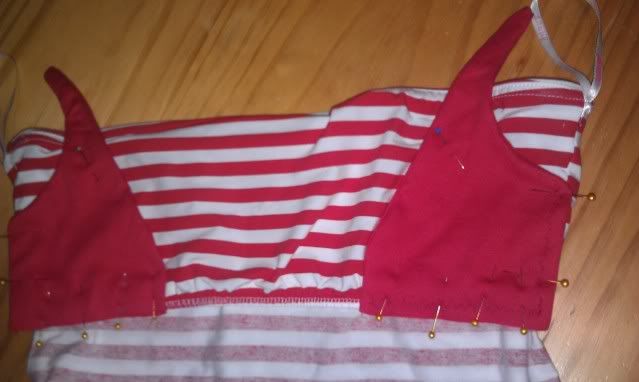 FYI The yellow head pins are where I'm sewing, other pins are just to hold in place. I do this because I'm a tired new Mum and need to alleviate errors LOL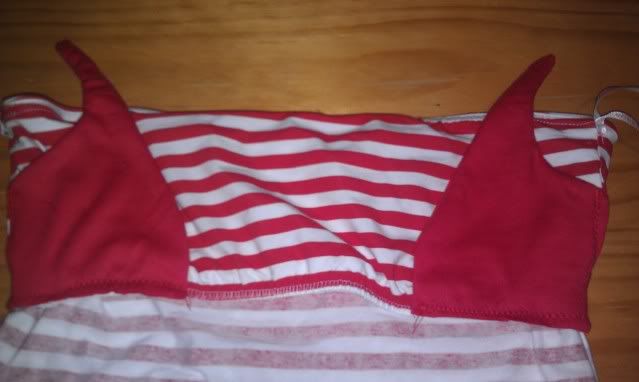 Below I demonstrate how the sewing didn't go to the outside of the top, just through the shelf-bra part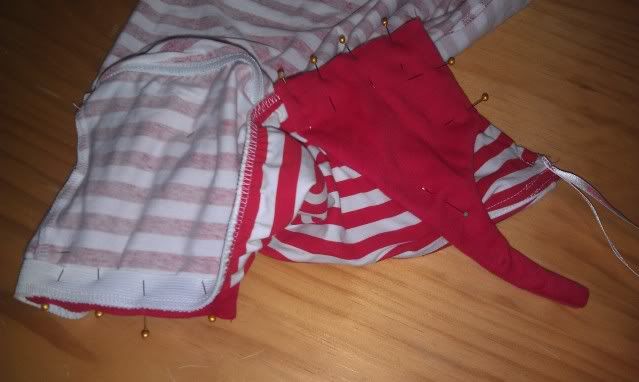 ---
Well done, first part done. Now you need a clip for when you're not feeding.
Now, the elusive clips... There are two pieces to each side. I hope I have demonstrated clearly enough throughout the tutorial.
I just made a little strap, threaded through the clip, and sewed to the very top part of my garment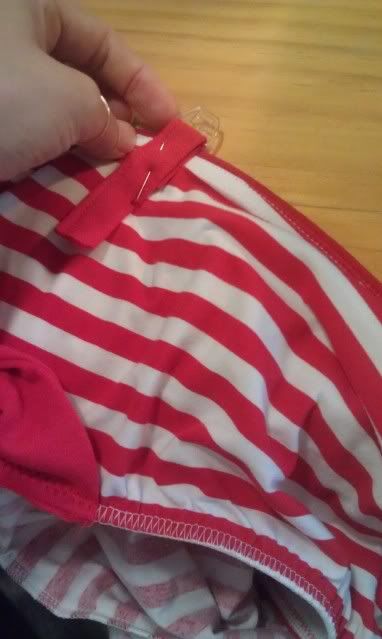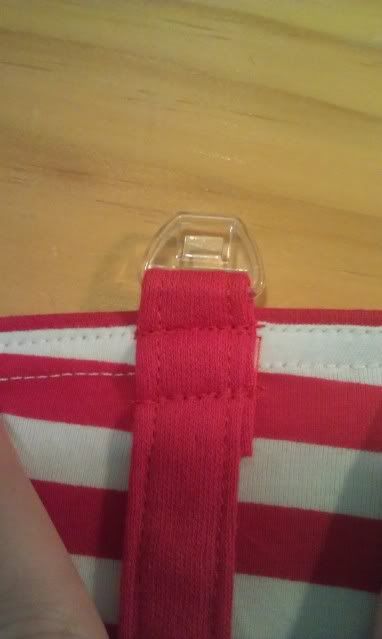 Once again, just through the shelf bra part.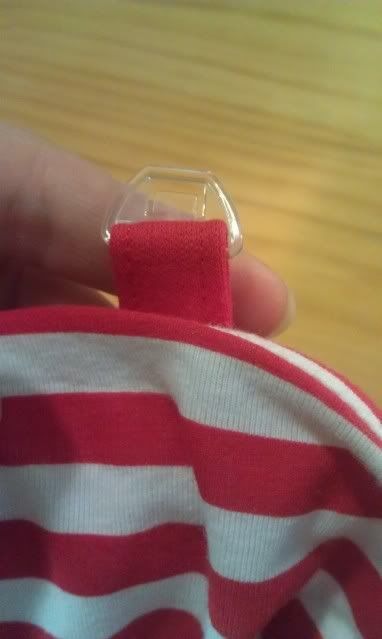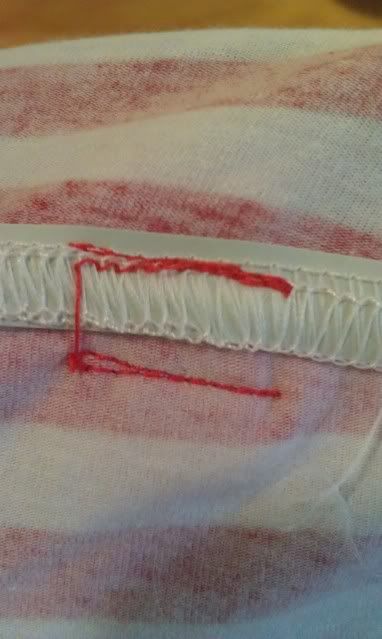 And for the other part of the clip, you have two sides to sew it in:
The top of the strap/insert, and the bottom part of your shirt's strap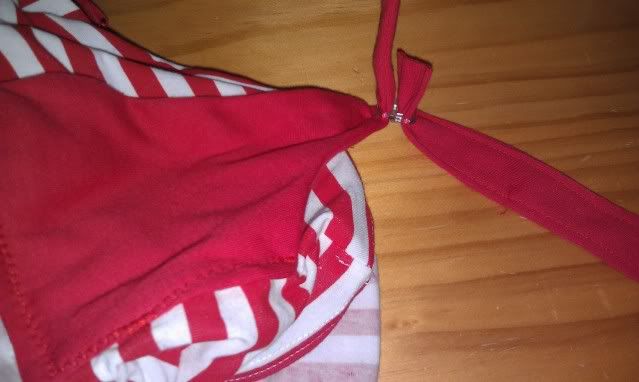 I just sewed as close as I could, using my zipper foot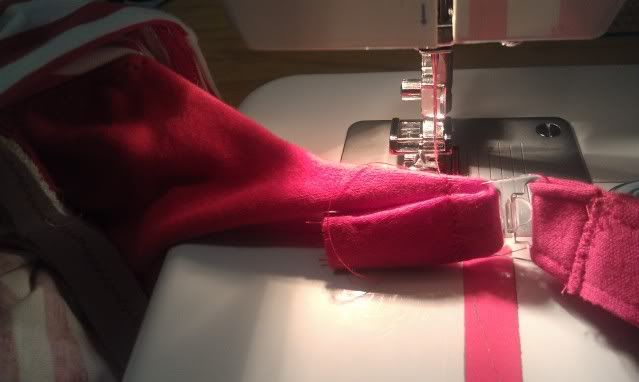 And this is what it's like when it's done!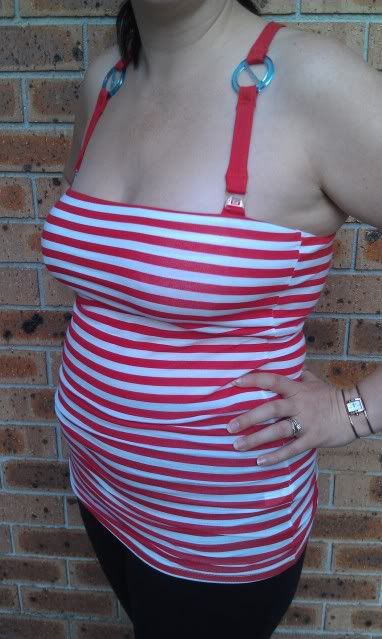 Have you made a breastfeeding top? What was your experience with a feeding wardrobe?
I also made this one (three times) which doesn't need clips, and looks nothing like a feeding top!
Rostitchery Nursing top with a twist