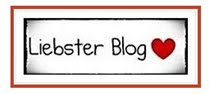 The Liebster award (German for Favourite) is usually presented to smaller blogs as a form of recognition and support. 'Smaller blog' is one with 200 followers or less.
As a recipient, you are to:
1. Link back to the person who gave it to you and thank them.
2. Post the award to your blog.
3. Give the award to 5 bloggers with less than 200 followers that you appreciate and value.
4. Leave a comment on the 5 blogs to let them know that they have been offered this award.
Jan from Red shed quilting has kindly nominated me for the Liebster award. Thank you Jan!
I would like to nominate....
Bronwyn at Stop that owl
Ally at Quilting Mumma
Cassandra at Sleeping or Sewing
Danielle at Threads n Mess
Gemma at Pretty Bobbins

This is a list of girls whose blogs I genuinely enjoy following. Sorry if it's a bit of a pain that you are meant to repost, ladies, but I still like to give credit where credit is due all the same!
PS Here are the latest pictures Maribel took of the travelling stash. Sorry they're so small, they were this small when sent to me. It's with Lisa now and hopefully will land on Bronwyn's doorstep very soon!