What a weekend! Craft day Friday, Central Coast Quilt and Craft fair Saturday, Sunday morning quilts today!
Friday saw my Aunty and Sister in law visit for the purpose of crafting, destressing, connecting, and good old fashioned women gaining from being together. We like to call it craft day. Of course, as with all my sewing compadres, much of it is not really about sewing, but connecting.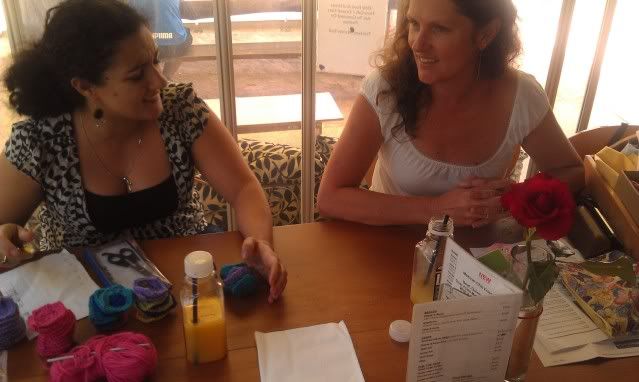 This is them, on a previous craft day
---
Saturday I was so excited to be a part of the quilt show! It the first time I've exhibited some quilts. I wasn't hugely proud of the largest one, there were mistakes on all three, but I bet most exhibitors could share mistakes, so I entered them anyway.
I've always had a thing about this town, so much of my family's history here, and I've always lived in the one postcode. In my opinion it would be hard not to be fond of it, so the point of all that was to say that I'm proud to be in the LOCAL show.
Below is the completed quilt I didn't get time to photograph before submitting it to the show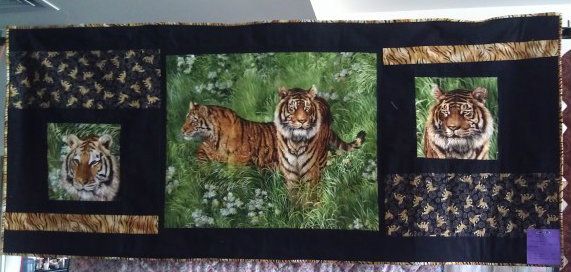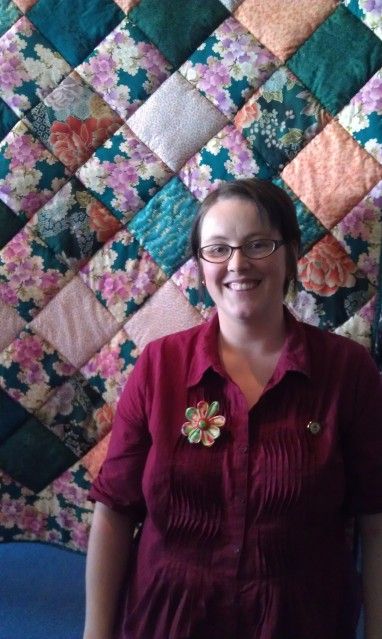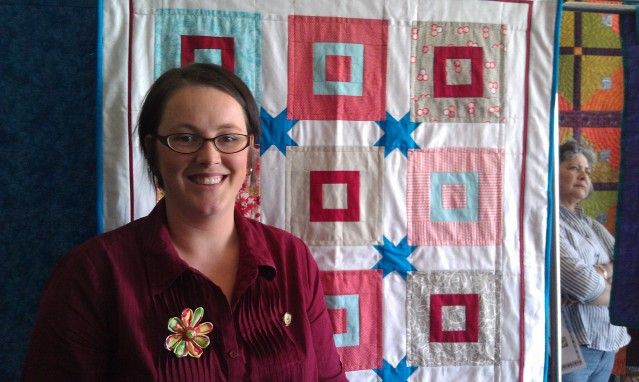 [ Note my kanzashi flower badge ;) ]
...Not only that, I was excited to be asked to demonstrate how to make kanzashi flowers at the Ripple patch stand by Samantha (of Ripple Patch). Being around her all day further reinforced my belief that she's such a smart and successful woman. Although her business is "young", she's already come so far, and really has her head screwed on. I wish her every success, but she's going places anyway!

I love teaching people, and the flower kit was really well received! Although with a busy week ahead, I'm thankful I have today to relax.
---
Today I got a proper chance to begin reading Sunday Morning Quilts by Amanda Jean Nyberg and Cheryl Arkison.
Like, the way an anal person reads a pattern book... every word from the front onwards LOL.

It reminded me that a scrap quilt is more about getting to use those fabric scraps you originally had a big ol' fabric crush on. I've spoken about this a million times, but I got a garbage bag full of fabric given to me up front, and my many pieces of scrap size are not at all my style. This has held me back from scrap quilting in my opinion and I've decided to give them away. If anyone is interested, leave me a comment here. I intend to photograph them to share (and maybe even iron them so I can fit more in the post?). It will be completely free.
Otherwise, I'm going to keep the scraps which are my own, and might make something from the book!

Thanks for your company. Hope you had a good weekend too.
---
PS. Can you believe I was THIS short on my binding, the day the quilts were due? LOL lucky I had more fabric to cut from.