My partner, Christie at
Describe Happy
received her mini quilt! I'm glad she seems to like it! I was so keen to make it that I did it before her inspiration mosaic went up LOL Oops. I also saw the size of some of the others and wished I'd made it bigger. I've never participated in a swap before, but I have learned a lot this time.
I also wish I'd put more things along with it, but at least I included a card with an image of Australia on it and a special note.
Here is me holding it...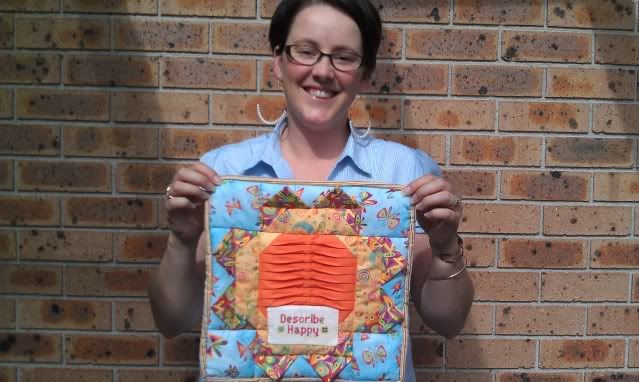 I sewed lots of love into it.
I've wanted to do the pleat thing for ages, but I am normally making practical items so this is the first chance I got.
I've been doing counted cross stitch since Mum taught me at about 8 or 10 years old, but it's something I only pick up every couple of years. I like it better than blanket stitch and cutting out fiddly letters to fuse so that was the main motivation for that.
--
Here is a pic of me with the quilt I got from my partner in France (I know, it's huge compared to the one I made! Feel terrible, but I didn't know you could go bigger than the suggested size at the time, so I'm sure my husband would say "there's no point worrying about it!")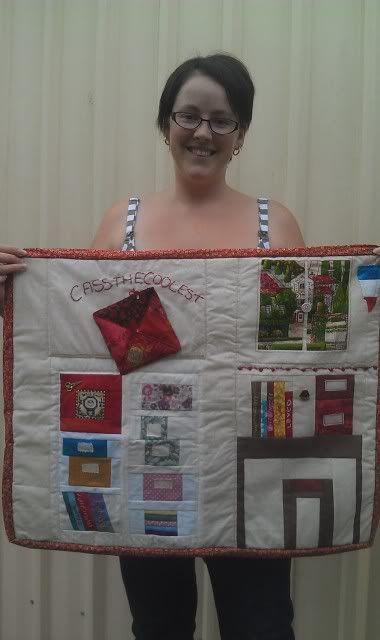 I'm loving it more and more. My Mum loved it the first day she saw it and wanted it for her sewing room (thank God it had my name sewn on!), and I think I was expecting something else to come and it took me a day to let it grow on me.
I also didn't realise at first that it was the window, seat, desk and bookshelf. So that was probably why I didn't immediately love it.
But now I look at it and am so chuffed!! I love the French flag to remind me how far it has come, just for me!