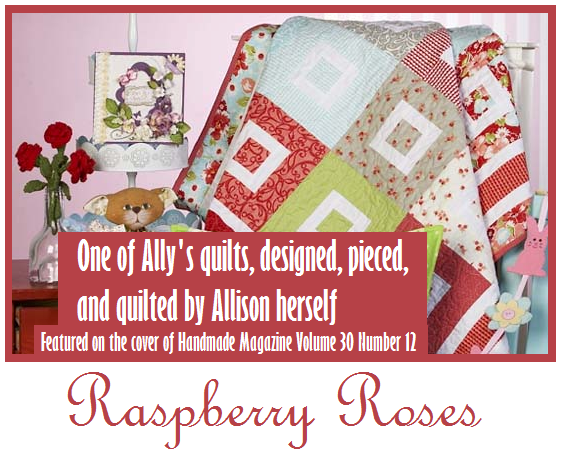 If you have read a patchwork magazine released within the last few years you have probably seen a quilt or two, designed by the lovely Allison Nicoll, AKA
Quilting Mumma
.
Above is one of the latest publications she is featured in, and she has been absolutely pivotal in my quilting journey. In my
sewing journey blog
I explained that youtube was the teacher of much of my patchwork as it was the Christmas break when I got "the bug". But where Ally comes into my life so that I could complete my first quilt is a whole separate blog, coming later this month. For now, I wont rabbit on about myself, for this blog is about Ally imparting more knowledge (to you)!
Having worked in a number of sewing stores, she has a wealth of patchwork knowledge to share.
When I asked her how she can calculate general requirements for a quilt so quickly, I realised that I'm sure there are others out there wondering too. So she so kindly wrote this guest post for us..... [enjoy]
Hi everyone!
My name is Ally and I'm the designer behind
"Quilting Mumma"
. Thanks SO much to the lovely Cass for asking me to do a blog post here for all you lovely peeps!
So Cass wanted me to chat with you guys on "how" I go about designing a quilt.
I don't have one particular way that I use all the time, I guess it varies depending on what fabric Im using, who the quilt is for etc etc. But basically I will give you a few tips and tricks that l find work for me
Its ALL about the fabric for me.... I will often find myself designing a quilt pattern in my head just from seeing a piece of fabric that makes my head all giddy!

As a general guide, I tend to use:

A fat quarter selection of a few main prints (Approx 8-10 fat quarters),

Then I team them with a solid colour/s that will match.

Add 1 yard/metre for border

And ½ yard/50cm for binding and I'm good to go!


I also LOVE pre cuts this is a great alternative if you are time poor or are not that confident in matching up prints. I will often use a jelly roll or layer cake.

I generally will only make lap or throw size quilts as I like to quilt them myself on a domestic sewing machine.

So there you have it, I guess the thing that I want to really point out, is to HAVE FUN! Quilting is something that makes us happy, so go with it and enjoy the time you spend stitching. Dont sweat the small stuff, accuracy is something that comes with practice, and if your seam is out by a smidge YOU are the only one who is going to notice. Be sure to check out my blog...
quiltingmumma.com
Spend some time today doing something that makes you happy!
Quilting Mumma xxx
---
For inspiration on block patterns to make up your quilt, go to
quilterscache.com/QuiltBlocksGalore
but don't say I didn't warn you, there are A LOT.
Love Cass