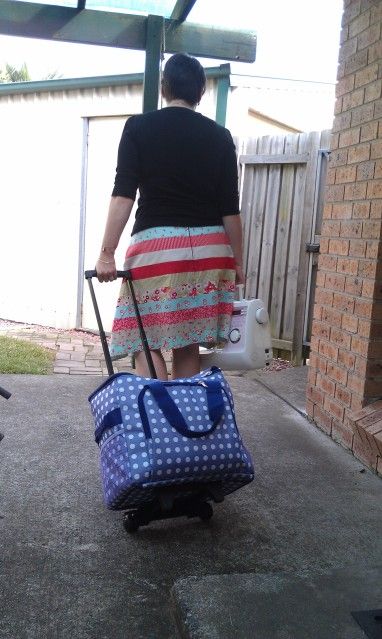 The beginning
The first recollection of needle and thread for me was doing very simple designs of counted cross stitch. My Mum did counted cross stitch in the evenings in Winter most years, and like most of us sewists, the progression to me was pretty natural. My two sisters can also cross stitch, but I don't really remember stitching with them when I was young.
The middle
My Mum had an old "Globe" sewing machine for as long as I can remember. She bought it new when my eldest sister was in high school and always regretted changing from her trusty previous one. I know why... it was a nasty bitch, that thing! I don't recall ever completing anything on it. I distinctly remember it ruining a whole bunch of things, but back then I never knew the value of rethreading and I never adjusted anything. I just waited til sewing class at school, where the machines worked.
I got my term of sewing in high school, as most of us did. Due to a timetable error by the staff at my school, our class got an extra term at textiles, and never got 'home economics' (Damn you, that's why I can't make rock cakes!! LOL). But seriously, I'm not a foodie, and my husband cooks dinner! I'm slowly widening my repertoire but I feel like I'm a few years behind my peers.
Anyway, I chose textiles for elective for year 9 & 10, made a couple of garments, got taught English paper piecing which I HATED, and won second prize for my 1950s circle skirt featuring a poodle at Central Coast Leagues Club once.
Currently
So I was given my Singer sewing machine, collectively by my family, when I turned 25. I was stoked, and I am so grateful whenever I think about it. It's one of those things I probably wouldn't have bout myself, but was just pivotal in my life today.
Still being scarred by the Globe, I was pretty scared of it (I think we've all been there) and would make projects one after the other with the same thread because I didn't want to rethread it (Haha I can't even relate anymore!)!
Christmas in 2009 I decided I really love the look of some patchwork (See
the quilt that inspired me to try: here
) and asked my husband's Nan how does she do it, with her machine? I hated hand piecing in high school (and still didn't know what a fabric crush was, back then) but my interest in it exceeded the hate I had for English paper piecing just enough to ask.
Well, Nan told me "You just cut up fabric and sew it in pieces", lent me her mat, cutter, and ruler, and I went 180km back home with some old Australian Quilter's Companion magazines in hand!
As it was Christmas break, all the patchwork shops were shut (how rude!). I'd got the desire, had scraps of fabric (boy I didn't know what a stash was back then, but I already had one! I used to go to Spotlight for all the trims, collecting them for one day!) and my sewing machine were all ready.... so of course I YOUTUBED how to patchwork!!!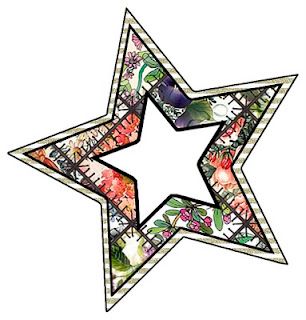 Then there was patchwork:
My first quilt was for my dear friend, Danielle. She was due to have her first baby in March 2011, and this baby would have a handmade quilt made by me!
I had a bunch of fat quarters and took some of the blocks I liked from a quilt called "Patterson's curse" by Carolyn Davis (Quilters Companion No.23 – 46) and designed my own quilt! I didn't know there were unlimited patterns out there (especially baby quilts!!), because Nan had literally steered me in the direction of patchworking with the quote "You just cut up fabric and sew it in pieces"! So the 84x84 inch quilt pattern was converted by me.
I added the whole cross stitched alphabet with little related pictures (a/apple), and my sisters and Mum helped with the letters.
Gosh I sewed so much love into that quilt! My friend knew it was coming but I hadn't shown her the whole thing. She got to it at her baby shower and started balling before she even unfolded it (and so did I!). I'm still so proud of that quilt, and she said they used it heaps!!
I quilted it myself on my little singer 8208 sewing in the ditch, as I have done with all my quilts so far.
Moved on to another baby quilt, and I've done a queen quilt (quilt as you go) and a bunch of quilts since then.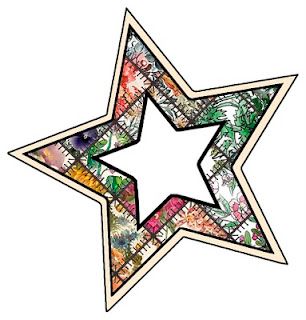 ...2012
I've been making a lot of garments and other little practical items in 2012 but I'll always be patchworking in between I hope. I've got an awesome local sewing troupe with my favourite ol' ladies and you lot online. Facebook this year has been all about sewing and I am just loving it so much. I really feel I will get a chance one day to travel around and meet people I've connected with, in person. This is the first time I've felt any compulsion to travel, because otherwise I've got everything I need right here in my postcode.
Much Love XO Cass