I like to gawk at other people's sewing rooms, so I thought I might share mine with you!
Plus, I have some ideas that I now would never do without. Can you see something I can improve? Let me know if you like any of my ideas and if you adopt any into your sewing space! I'd love to hear from you whether your sewing space is packed away 90% of the time or your house is small compared to your sewing room!
The storage space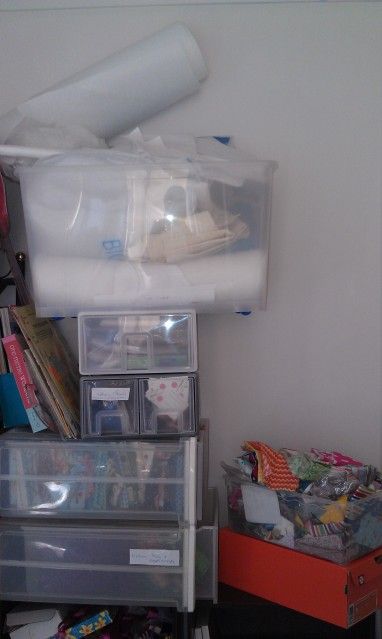 Some of my fabric storage...
The top box
contains all my wadding, interfacing, pellon, fusible web, toy fill, and some calico.
Under that is a drawer full
of patterns, with my rulers stacked on the left.
The next double drawer
is notions and tools that don't fit in my "fasteners" drawer, such as bias maker, spare needles, press studs, bra clips, pinking shears, lint roller, and I jammed some business cards in there too.
The two drawer sets underneath (facing the other way) is all fabric. Fat quarters mostly here. I could never colour sort my fabric (I'm too anal and I am pretty sure my head would actually explode) so I file by size. Plus, I'm more likely to look for a bit of fabric for a certain size requirement than go looking for "that blue" bit.
The orange box and the shoebox on top is "scraps under a fat quarter" but much of it is from fabric that was given to me, not my own scraps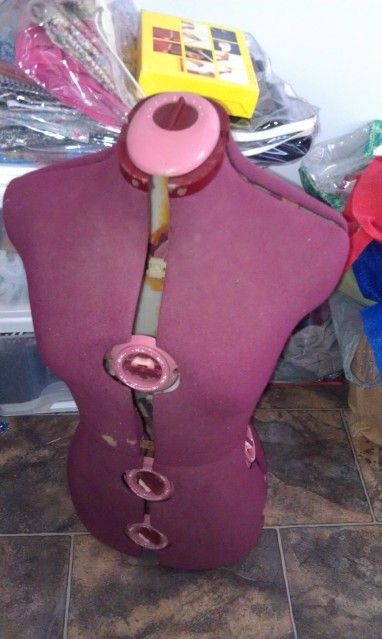 An old mannequin I got for $10 but I don't know how to use it.
---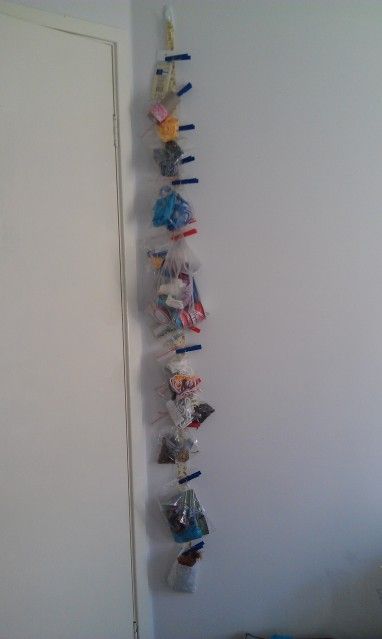 I think this is one of the best ideas I've ever come up with. I knew vertical storage was 'the way to go' to be able to see my trims, so I chose one trim/ribbon I wasn't going to use, hooked it onto a wall, then put all the others in clear bags and pegged them all the way down it. Gosh I'm smart LOL.
It also compels me to put things away!



---
The drawers on the left
were given to me as my 1st ever Mother's day present (at request), from Howard's storage world.
The bottom drawer and the fabric stored on top in a plastic cube are 1m or larger of cotton. The yellow box is my LutterLoh Pattern system.
The plastic cube on the right is full of half completed items.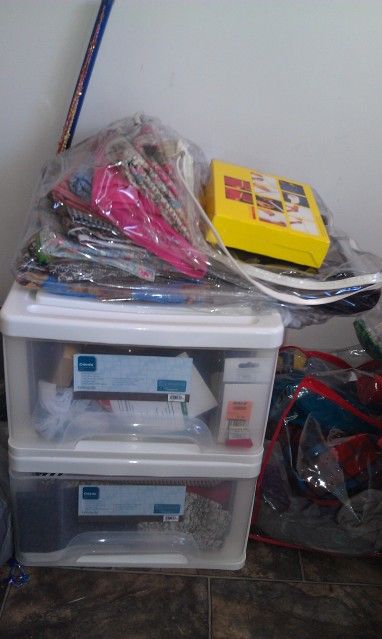 [The top drawer is open in the picture below].
This 'drawer' holds my fastening tools, zips, buttons, Velcro, clips. Plus dolls eyes/noses and quilt hangers.
I'm all for clear storage, as you can see.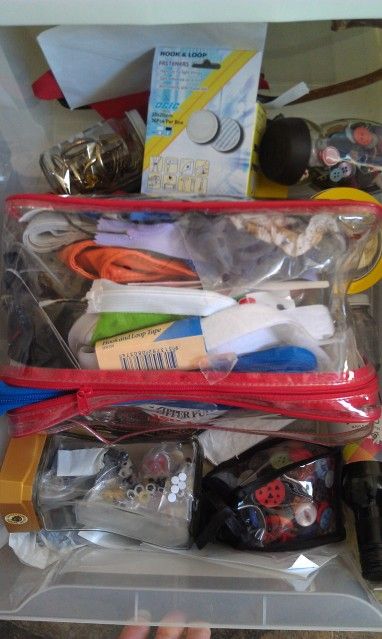 The following picture looked terribly messy, I thought about leaving it out, but I try to be pretty honest on this blog, and so I'm bearing all - there's yet another bag of fabric (LOL). This HayHouse bag, further to the right, is non-cotton fabrics such as upholstery fabric, vinyl, satin, flannel etc.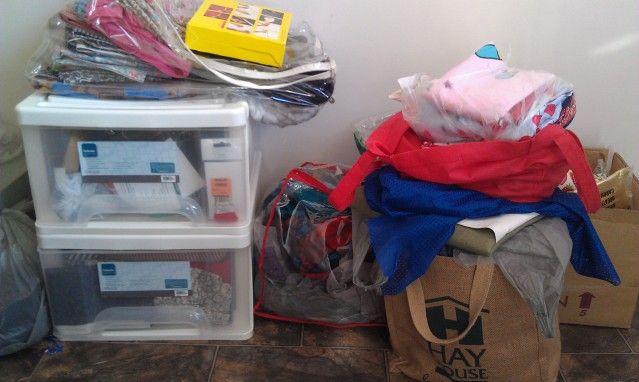 The space
"The workbench" AKA our dining table is the pretty constant home for my Brother NS20.
See my second hand lounge in the background which keeps my nicely ironed fabrics out of DS1's sticky fingers til he gets taller. And I stack almost-finished projects on the lounge for table space, too.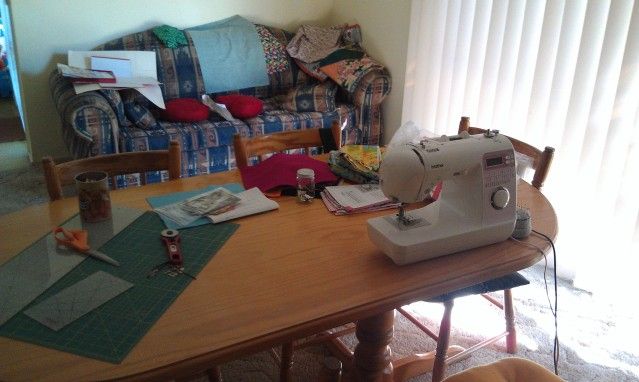 The other view of my dining table which has a fish tank behind it, and my ironing board. I used to have to walk to the other end of the house to press seams and it was laborious!! Plus I was constantly paranoid I'd left the iron on in the spare room, so I even switched it off between chain piecing sometimes!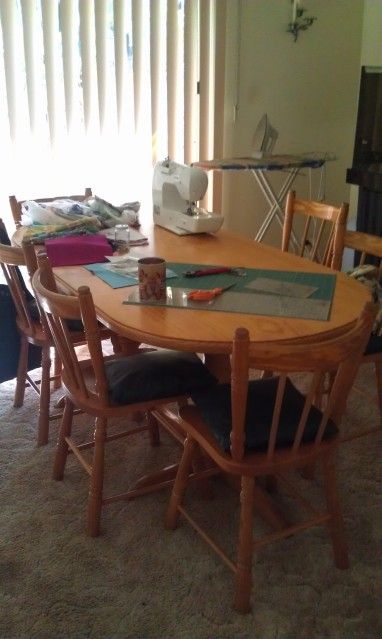 The tools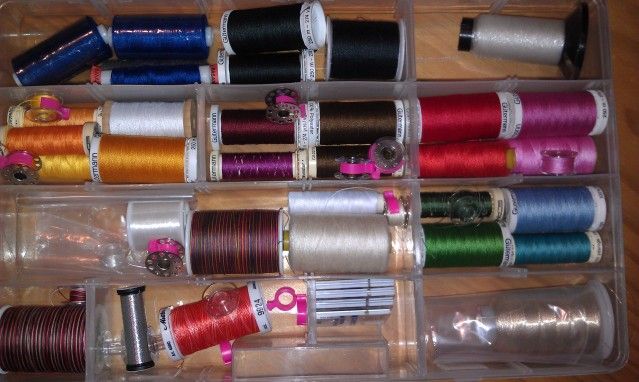 My Threads n bobbins. I like to keep the bobbin with the spool.
I use "Bobbin buddies" (those hot pink things) but they're hard to get hold of. John, the husband of
Punch with Judy
suggested the company might have gone broke in the GFC? I've also seen an idea somewhere that says you can just cut plastic piping to make a little ring, and it will hold your bobbin tails just as well (but you don't have the cute mini handle).
---
Below is probably one of the most practical things in my sewing life!!
A recycled container, originally bought from Coles full of Anzac biscuits! No matter how cute I think your caddy is, I wont part with this gem, it's absolutely perfect for the job. Although I wish it was big enough for my scissors and rotary cutter, that's its only downfall so far.
Once again: Clear storage rocks!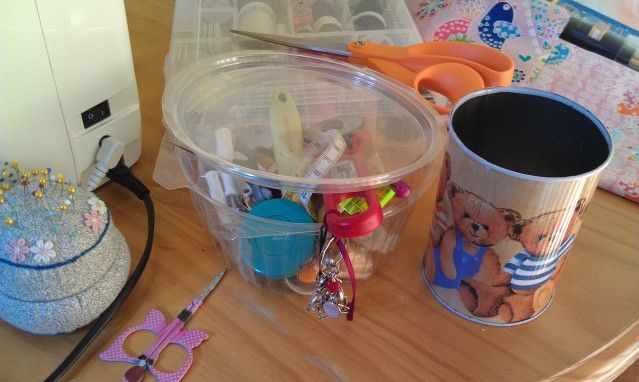 This little kit below
spends most of its life on my lounge for all the handsewing parts of projects.
I do all my handsewing while sitting with my husband watching tv ...otherwise I might forget what he looks like. Perhaps I should put my husband's picture on my sewing machine to be sure I remember his face LOL.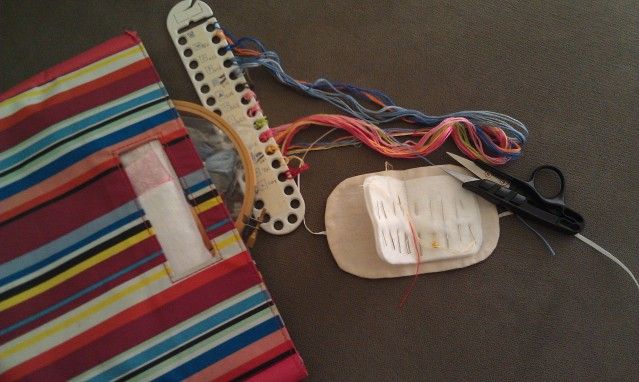 Thank you for looking, please tell me what you think?
---
Coming this month:
My Birthday!! And a post about a very special friend (you're not going to want to miss this, it's a special story!)
Coming in May:
Amongst other things, I will share with you my blogging processes